eVolve Mechanical v2.4
Release Date: January 27, 2020
Resources
Compatibility
Autodesk® Revit® 2018.3
Autodesk® Revit® 2019.2
Autodesk® Revit® 2020.2

New Features & Enhancements
General
New and updated help documents, updated URLs provided in the F1 link
New eVolve MEP Support page created and linked to Contact Support ribbon button
DPI scaling now supports 4K monitors
Undo events are now more streamlined
'Pipe Fittings' category elements are included as a spoolable part
Carry Over values
A new option through the eVolve properties palette. To use this feature, follow these steps:
Select a part, set one of the parameters where there is a check box next to it activate the check box.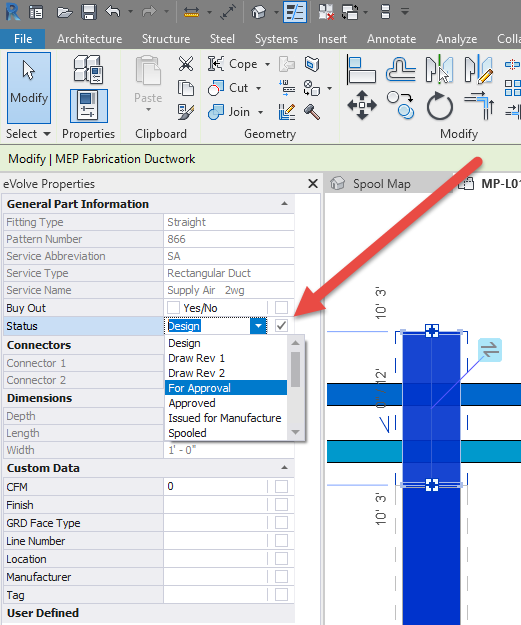 When you add the next fabrication part, you will see this parameter carried over to the new fitting.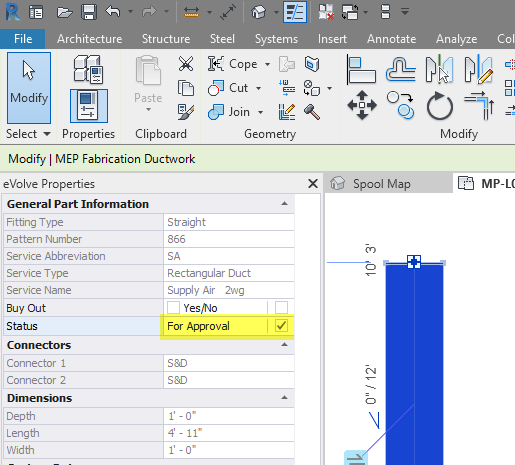 Alignment Tool
Alignment to target

Run = Aligns adjacent fittings to the Top or Bottom of a selected part within the run.
Edge = Aligns fittings to a selected surface edge within the view.
Offset = Applies the Offset value based on the fitting's reference level.
Reference Plane - Aligns fittings to a selected reference plane within the view.

Equal Spacing

Spacing - Aligns fittings to the same center to center spacing.  
Family Browser
The family browser allows you to point to a custom Revit family library and organize it, save favorites, search for parts and easily load them into your model. *eVolve Mechanical ships with several families ready to use!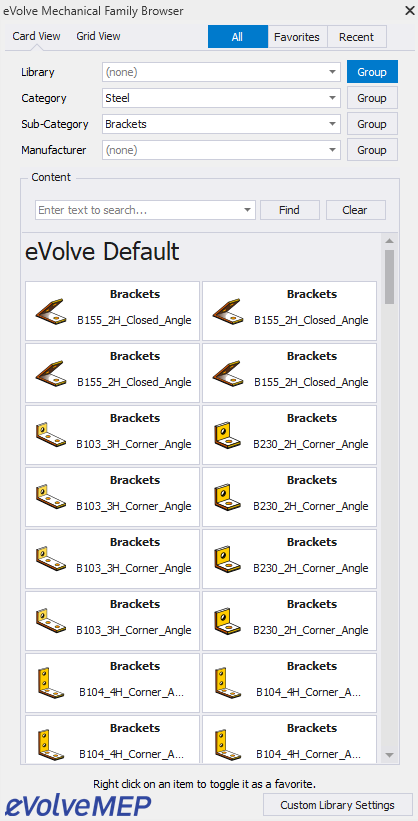 Hangers
Collision Tolerance
You can now set a tolerance around the hanger rod to further adjust the collision rule set.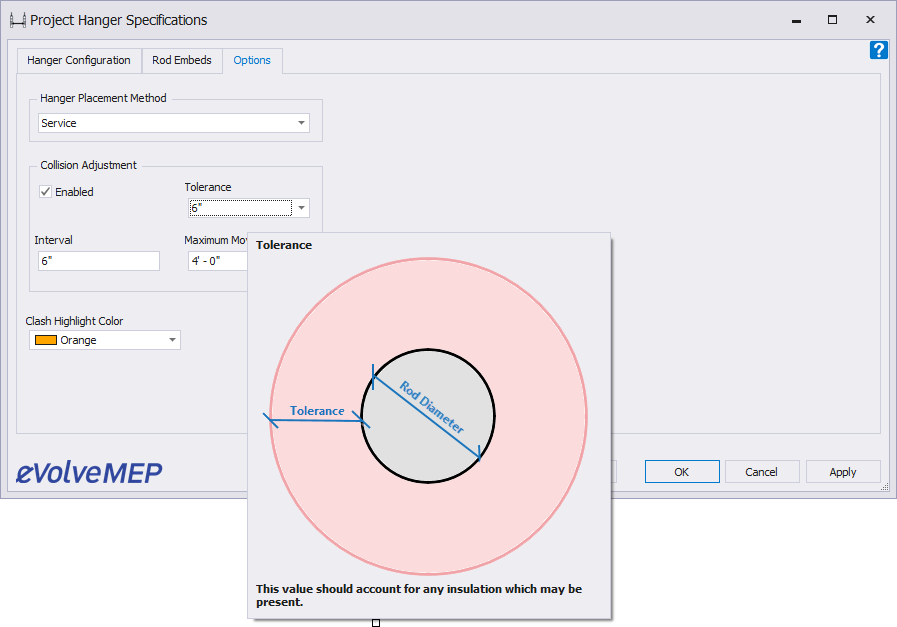 Clash Detection
Clash Detection will now highlight the hanger as well as the object it collides with.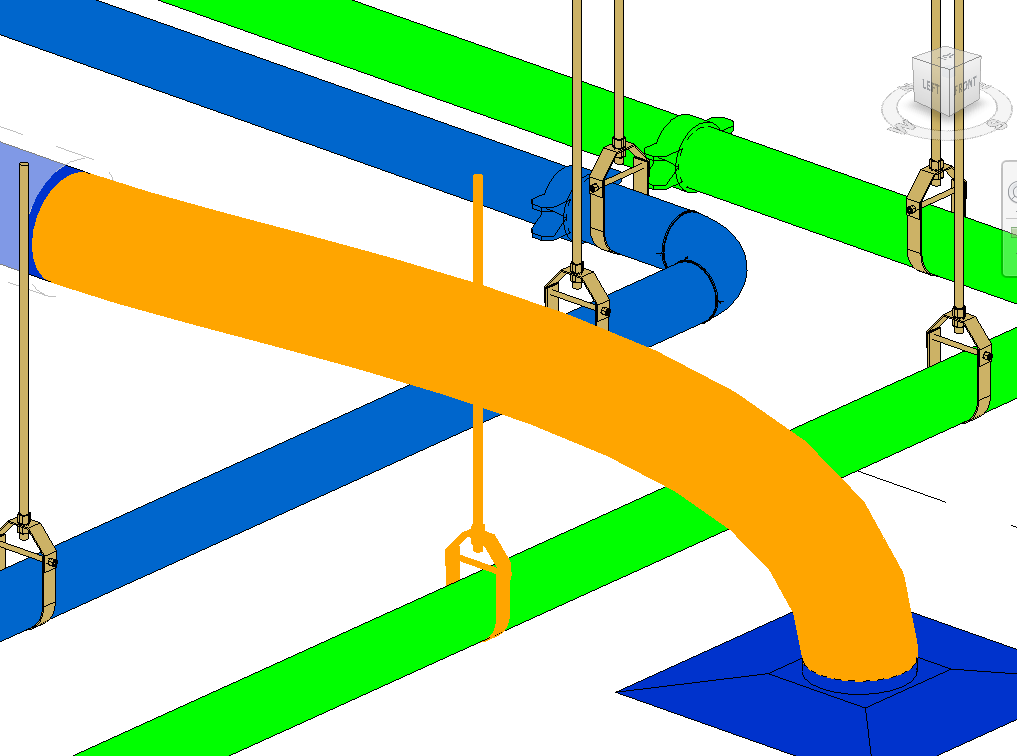 Spooling
Spool Naming
Now has a dynamic naming feature that allows you to choose from Revit parameters. In the example below, you can see that we are using the service abbreviation + our starting number, the result will be something like this: CHWS01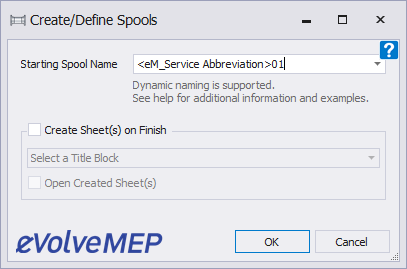 Note that the image above shows new options for selecting your title block and opening the sheet.
Renaming Spools
A new option to rename spools with the option to use dynamic naming is now supported in the spool manager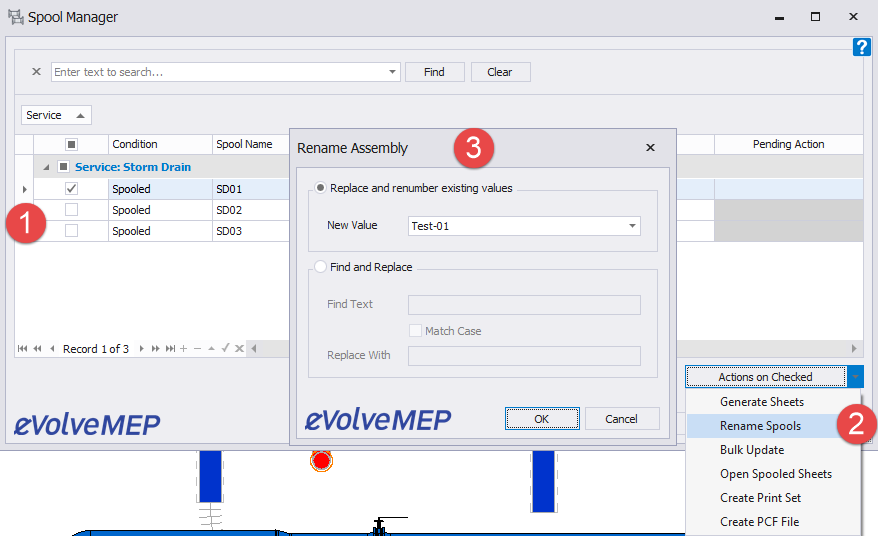 Auto Spools
A new feature that allows you to enter in maximum length, width, height and weight requirements for your spools. The software then automatically defines your spools based on this information.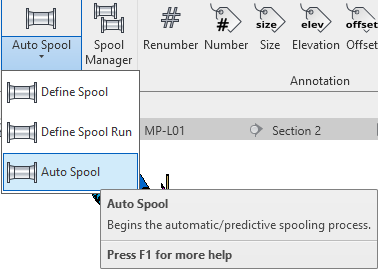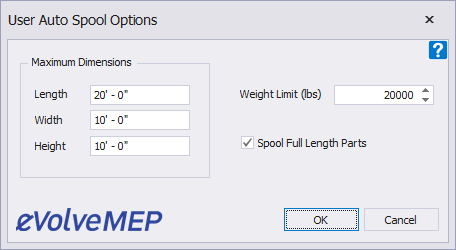 Custom Data Columns in the manager
To activate, go to spool settings and choose which custom data fields you would like to turn on in the spool manager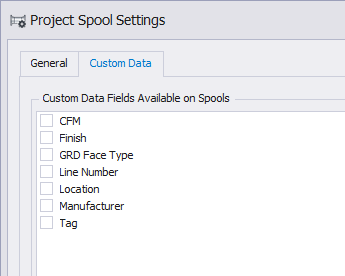 Sheet title block setting and update to rebuilding spools
You can now set the spool title block when you create the spools or later in the spool manager.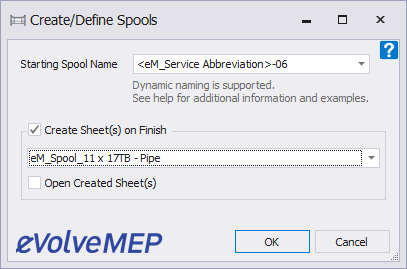 Whenever eVolve needs to rebuild the spool such as when you cut in a new part to an existing spool, eVolve will now remember the title block setting that was used
Spot Slope, Spot Coordinates, View port tag annotations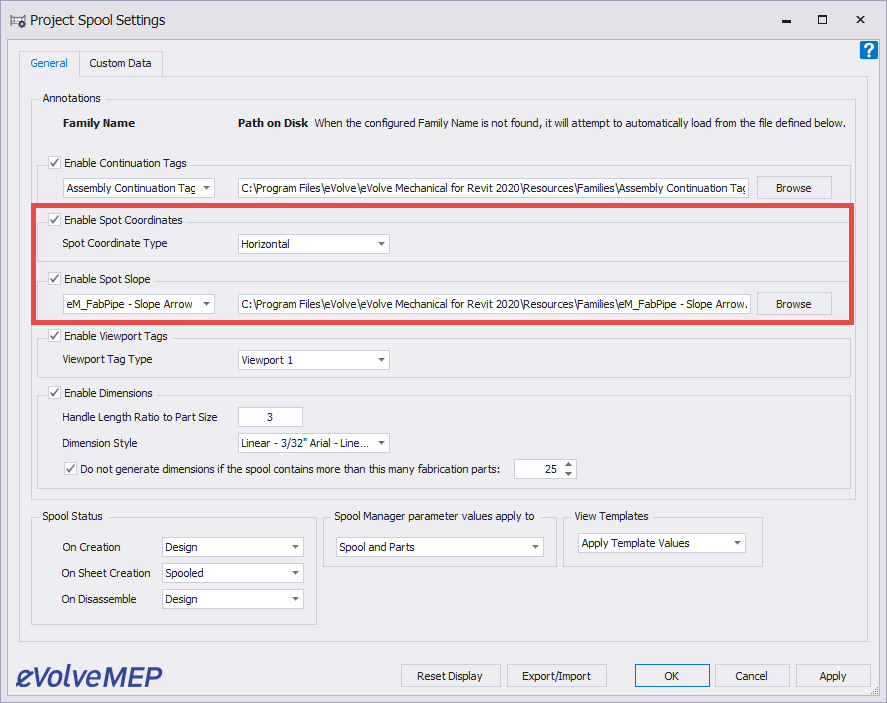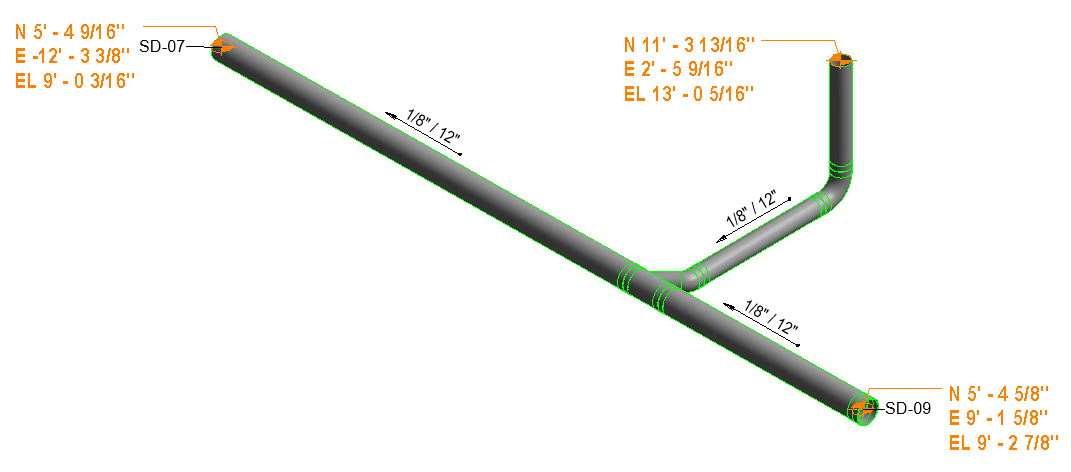 Print Set creation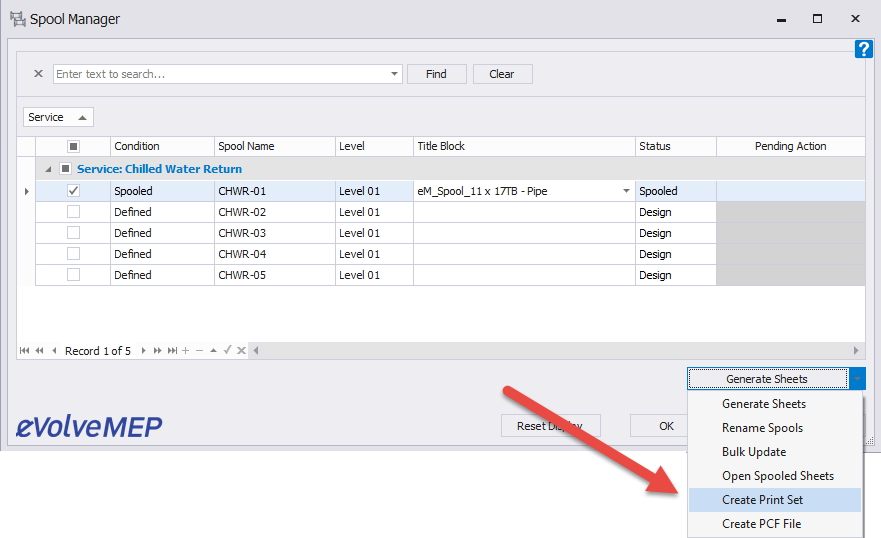 Bulk open sheets
There is now an option to open all selected sheets within the spool manager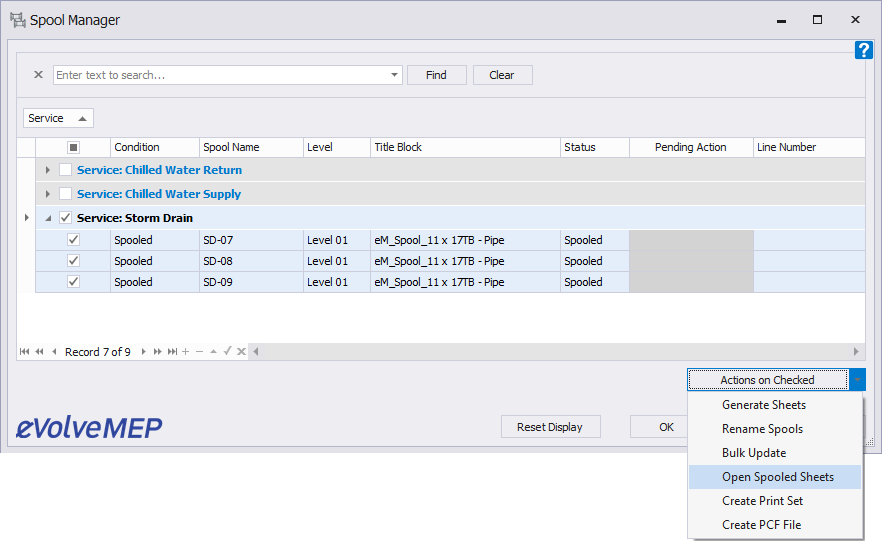 You will also see an option to open sheets in the spool creation dialog, if the "Create Sheet(s) on Finish" options is checked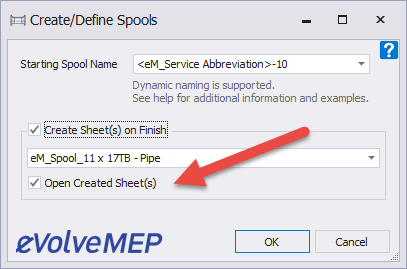 Apply/Assign templates in sheets
This option is now available within the Spool Settings dialog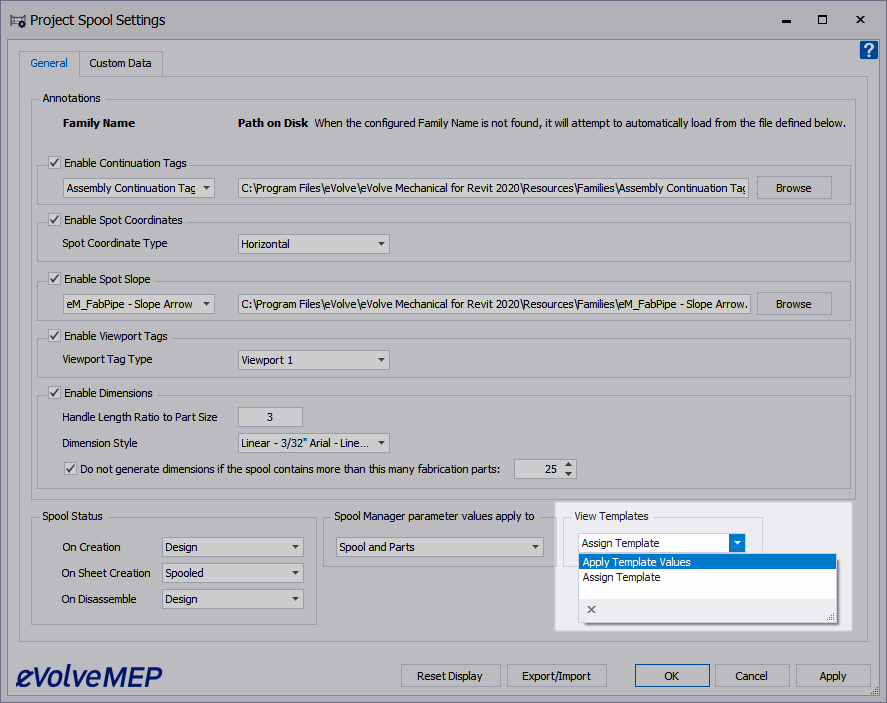 'Pipe Fittings' category elements are included as a spoolable parts when using the Define Spool method
---
---