Trapeze Settings
Trapeze Settings
Before placing Trapeze hangers (Multi-Service Bearer), you will need to create a placement profile. A profile may be set up to place Fabrication (ITM) trapeze hangers or Family (RFA) trapeze hangers.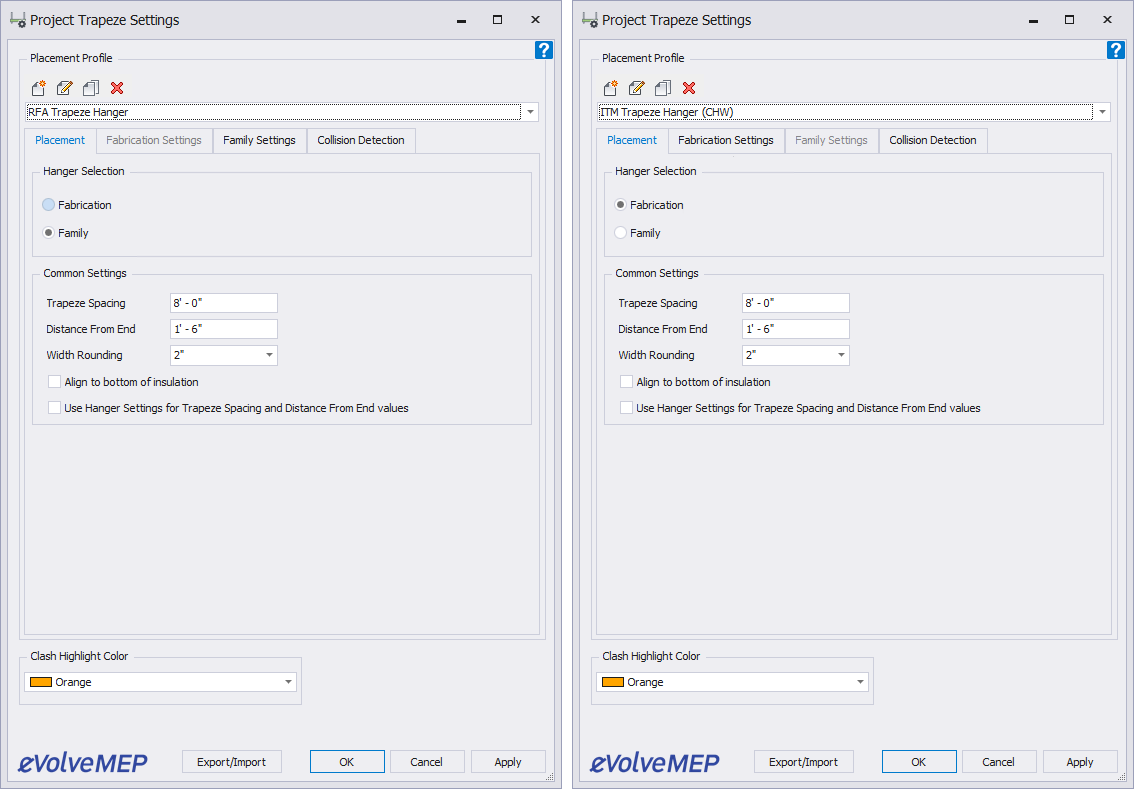 After creating a profile and choosing your initial settings, you will need to continue to set up the profile settings for each hanger type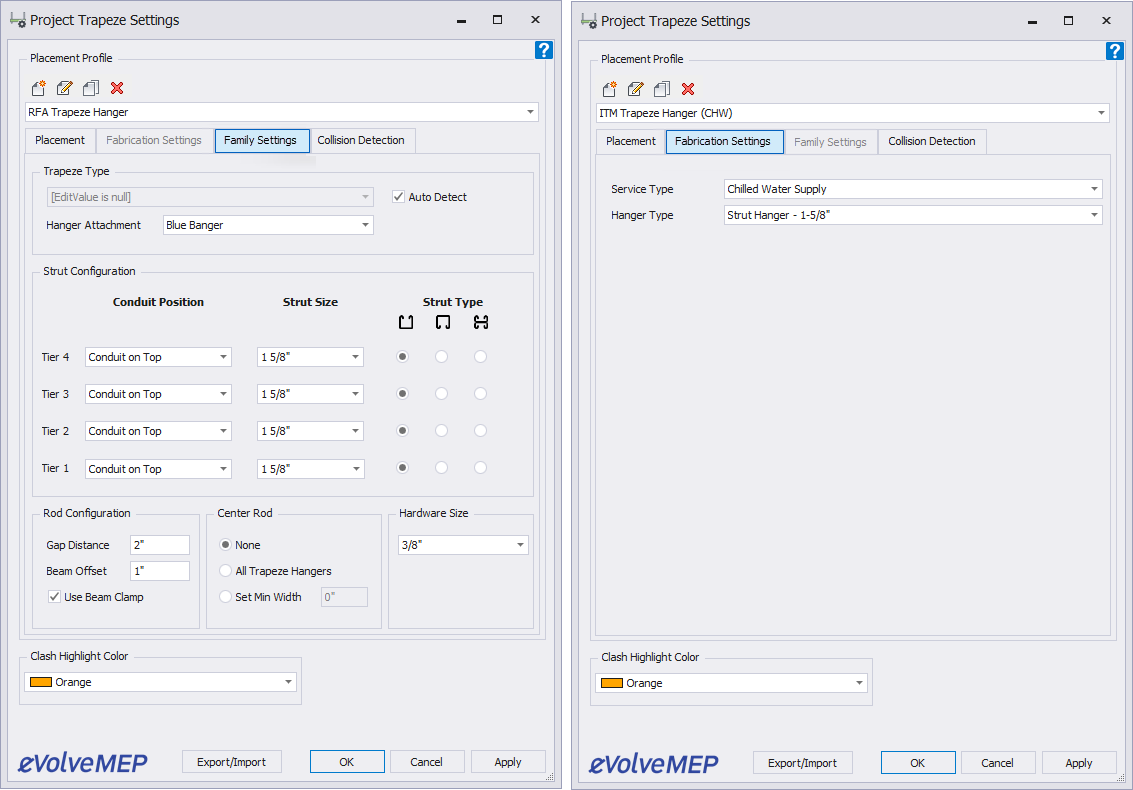 Both Family (RFA) and Fabrication (ITM) hanger types support collision detection options. In the image below, you can see how the options are applied.
Preference:

Stretch then move back - The Trapeze will stretch wider (depending on your maximum strut length and maximum stretch length options
Move back then stretch - The Trapeze will move before trying to clear the collision by adjusting the strut width.
Move back - The trapeze will only move back and will not stretch the strut length

Tolerance: This will add "soft collisions" to the collision detection. For example, if your tolerance is set to 1" then anything closer to the hanger rod than 1" will result in a collision.
Movement Interval: Whenever the trapeze must move back, this is the distance it will move before checking for another collision
If you set this interval too small, it may result in longer wait times
Maximum Movement: What is the maximum distance the software should keep trying to move the hanger before it stops trying to clear the collision. *It may not be possible to resolve the clash automatically.
Stretch Interval: When the trapeze must stretch to resolve a clash what interval do you want the strut to be stretched. *The hanger rod will move laterally this distance.
Maximum Stretch: When the trapeze must stretch, what is the maximum distance you want it to stretch to before trying other methods in the rule.
Maximum Strut Length: This is the overall strut length which includes the length of strut needed to support the MEP objects and the stretch length on both sides.
Highlight Immovable Hangers: Whenever the rule has exhausted all options and cannot resolve the clash then eVolve will put the hanger back at the original position and highlight the hanger the "Clash Highlight Color" selected at the bottom of this dialog.
Override Distance From End to avoid clashes: The "Distance From End" rule is defined on the "Placement" tab, the first tab of the placement profile dialog. This is the distance the first hanger will be placed from the end of the first selected part. This option will override the distance defined in that rule when necessary to resolve a clash.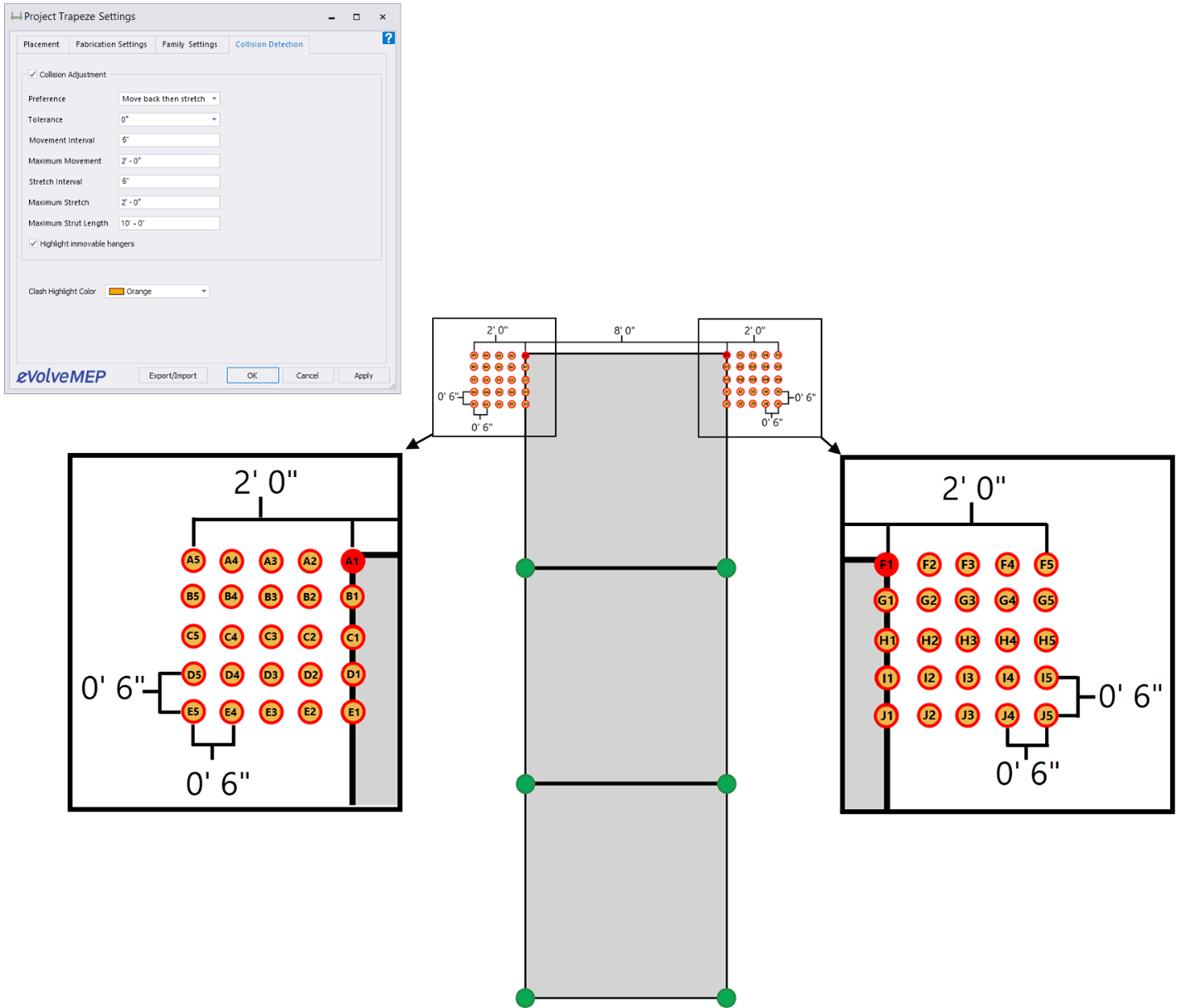 Click "Apply" to save your profile
---
---