Sleeve Settings
As with hangers, the Sleeve Placement feature in eVolve is controlled by rules dictated through Sleeve Settings. Here you can create custom rule sets for placement as well as choose from a multitude of options such as links to evaluate against.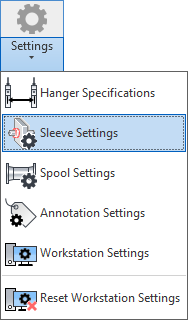 Settings Window
Inside the settings window you will find all the options needed to control your sleeve placement. For ease of use the panel is separated into a Configuration and Settings tab. Note that once in place, these settings are remembered for the project though you can edit them at any time.
Configuration Tab
The configuration tab is where all rules for sleeve placement are created and stored. There are many options in order to provide the flexibility needed realistic placement so be sure to take time to know all your choices.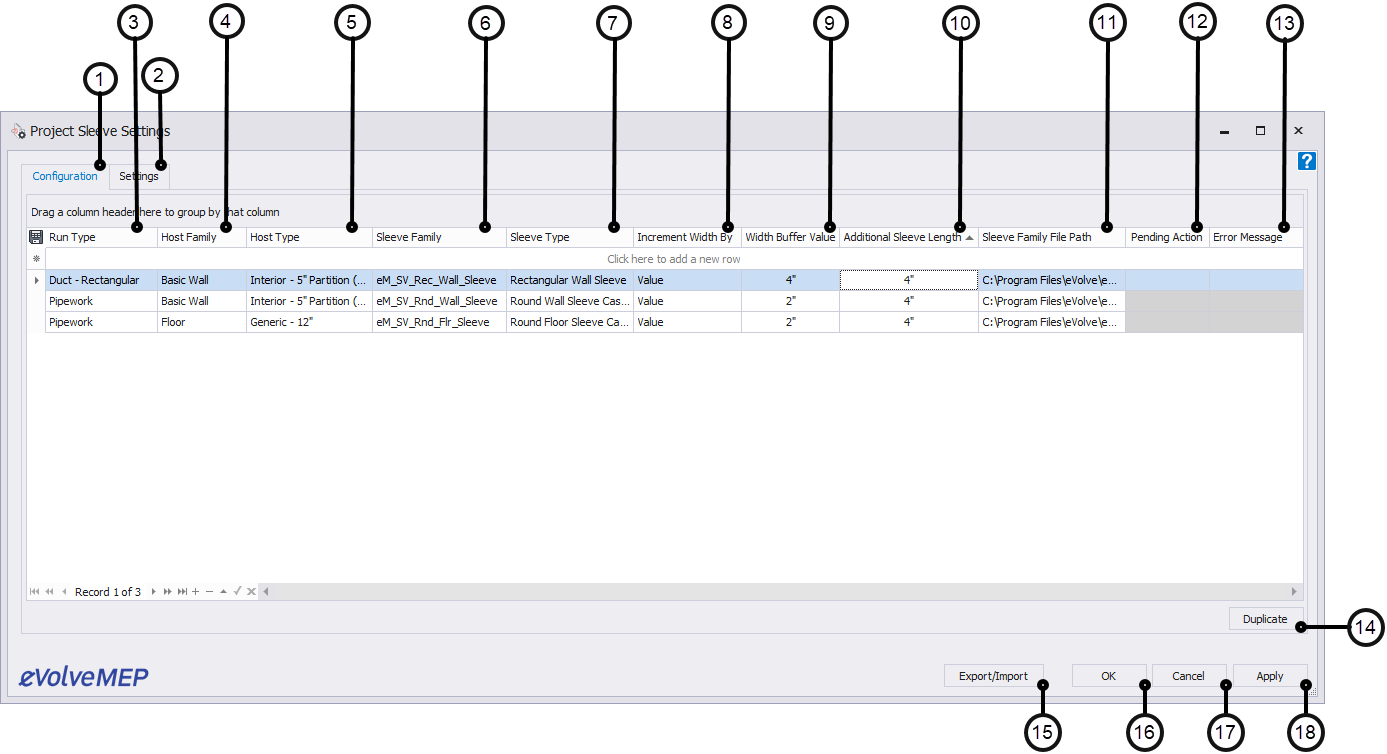 Configuration - Here you create your sleeve placement rule sets that drive the feature
Settings - Options to further customize your placement that are universal rather than rule specific
Run Type - The type of run your rule applies to. Standard MEP types are available.
Host Family - Option to choose between host Revit families.

These are pulled directly from your link/models selected in the Settings tab.

Host Type - Option to choose specific family types available from the Host Family.
Sleeve Family - Choose which sleeve families to place for this rule

All families within the model with "Sleeve" in their name are shown.

Sleeve Type - Option to choose specific family types available from the Sleeve Family
Increment Width By - Choose your method used to oversize your sleeve

Value - a standard value such as 2"
Index Position - for fabrication parts you can also choose to oversize the sleeve by the next available sizes available to the host element. An example here is +2 for applicable Pipework.

Width Buffer Value - The value to increment your width by. (options are dependent upon Increment Width By method)
Additional Sleeve Length - Value to oversize the length of the sleeve by.
Sleeve Family File Path - If the sleeve is not already in your model, you can choose to browse and use it here.

If your sleeve is already in your model there is no need to fill out this information.

Pending Action - Action to be made when Apply or Ok is used.
Error Message - Informs of any current errors with your rule.
Duplicate - Quickly duplicate a rule to save time.
Export/Import - Options to export and import your rule sets for easy sharing within the group.
Ok - Accepts pending changes and closes window
Cancel - Cancels pending changes and closes window
Apply - Accepts pending changes and keeps window open
Settings Tab
The settings tab allows you options beyond standard rule configurations. Here you can choose from a variety of options such as links to evaluate against and performance tuning.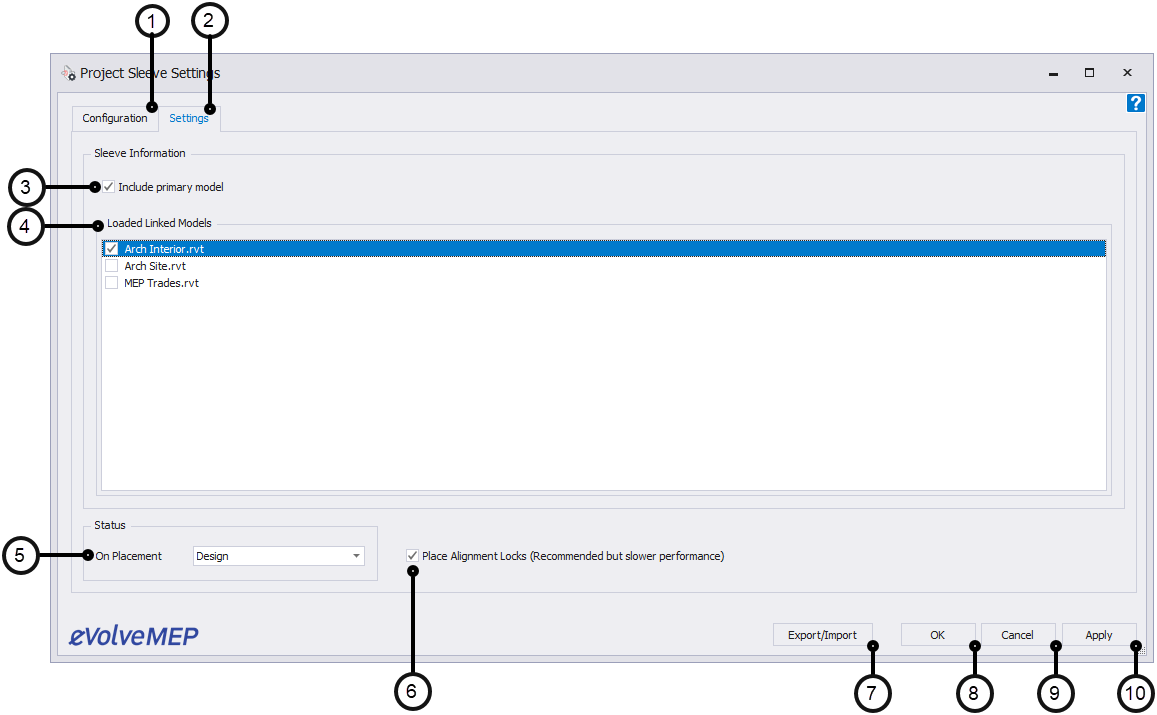 Configuration - Here you create your sleeve placement rule sets that drive the feature
Settings - Options to further customize your placement that are universal rather than rule specific
Include Primary Model - choose to use available wall/floor families in current model when creating rules

Note that only Loaded Links will be shown.

Loaded Linked Models - choose which link(s) to pull available wall/floor families from when creating rules.
On Placement - Choose which status to assign sleeves when placed.
Place Alignment Locks - Choose to allow alignment locking which ensures sticky behavior.
Export/Import - Options to export and import your rule sets for easy sharing within the group.
Ok - Accepts pending changes and closes window
Cancel - Cancels pending changes and closes window
Apply - Accepts pending changes and keeps window open
---
---