Create Points
Overview of the Create Points window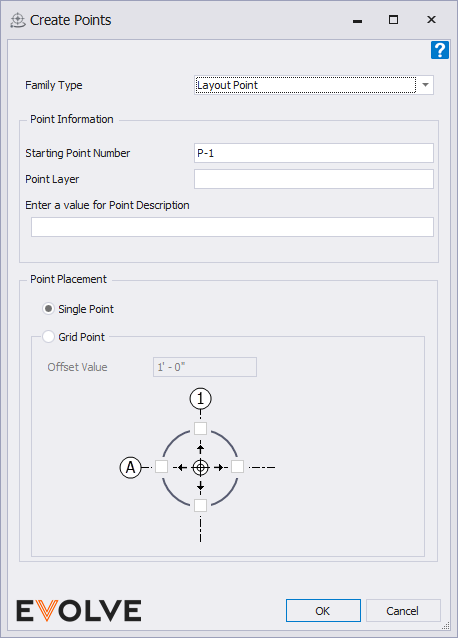 The Create Points window lets users quickly define the point's metadata and select the type and number of points to place.
Family Type menu - reads and displays all eV_Point types found in Project Browser\Families\Generic Models\eV_Points.

Centerline Point
Control Point
Layout Point
Rectangular Sleeve Point
Round Sleeve Point

Point Information panel defines metadata meant to identify a particular point or group of points.

Starting Point Number - the value is written to the Layout_Point_Id parameter. As points are placed, they will sequence to the next available number. The numbering may be changed from the Point Manager.
Point Layer - the value is written to the Layout_Point_Layer parameter.
Enter a value for Point Description - the value is written to the Layout_Point_Description parameter.

Point Placement panel

Single Point - used to place one point.
Grid Point panel - used to place multiple points.

Offset Value - defines the distance the point(s) are placed from the center.
The offset checkboxes allow for one to four points to be placed.
NOTE: Hold SHIFT + Click to place points within a host element. This functionality only works with families and does not work with ITMs.

Relevant Articles
---
---