Intro to Renumbering
Renumbering
Assigning item numbers is a vital task for any spooling and prefabrication workflow. eVolve offers a fully tailored renumbering command that allows you to not only create rules for renumbering but even choose which fields to assign the number to.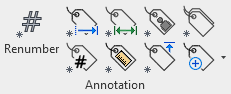 Rule based renumbering
Custom prefix, number and suffix
Supports Fabrication (ITM) and Family (RFA) element types
Write to any parameter
Renumber by Spool / Service / Assembly
Define number order by run direction
If your preference is to spool by color rather than have the spools disappear. Turn on the display of the spool filter(s) in Visibility / Graphics ,  Filters settings.
For more information, please read the following article(s):
Renumbering
---
---