Intro to Supports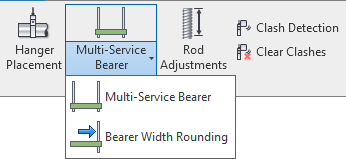 Supported Categories
MEP Fabrication Ductwork
MEP Fabrication Pipework
Available Fabrication Hanger Patterns
838
1238
1239
1240
1241
1242
1243
1244
1245
1246
1247
1248
1249
1250
Supports Toolbar

Hanger Placement

After enabling the Hanger Placement tool, select runs of duct and/or pipe you want hangers to be placed on. Hangers will be placed based on spacing requirements predefined in Specifications. Note that final placement of your hangers is also managed by the collision adjustment setting.
Multi-Service Bearer and Bearer Width Rounding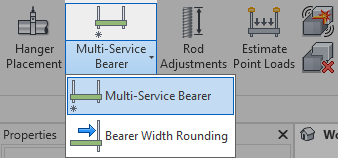 Multi-Service Bearer will allow you to place trapeze hangers for multiple services such as rack piping. See Multi-Service Bearers for detailed information about this feature.
Rod Adjustments

Rod adjustments allows you to place a family at the top of the hanger rod on Fabrication (ITM) type hangers for scheduling or coordination requirements. The settings for Rod adjustments allows you to control how much the hanger rod is adjusted into structure.
Family based hangers do not need this feature as rod adjustment and upper attachment options are available in the placement of those parts.
Estimate Point Loads

Estimate Point Loads calculates the weight value of all selected elements by the number of selected hanger supports. The dialog will provide you with the results, allow you to increase the value by adding an adjustment percentage and then gives you the option to apply the results to the eVolve point load parameter. This feature supports both Fabrication (ITM) and Family (RFA) elements.
Clash Detection
After hangers have been placed in the model, use these tools to highlight elements in the active view that are in collision with hanger rods.
---
---